About Live Aloha
Founded in 2016, Live Aloha Realty is a charitable company offering top-notch, personalized real estate sales and property management services. Principal Broker Kai Ohuchi opened Live Aloha Realty in order to provide premier services to clients while giving back to the community at large. Live Aloha Realty works with a number of local nonprofit charities who help those in need on the Island of Hawaii, benefiting the community by spreading aloha, or as we like to say, Living Aloha and Giving Aloha.
At Live Aloha Realty we believe we can improve the lives of the people of Hawaii through real estate. In order to help our community thrive we we donate a portion of of every broker's sales commission to local non-profits in Hawaii, supporting a variety of causes including the arts, education, the environment, and of course, housing. We sincerely believe in what these organizations are doing for Hawaii. By giving back we hope to participate in building a better tomorrow for our keiki and our island.
At Live Aloha Realty, each of our team members – or 'ohana, as we like to think of them – truly lives the mission of giving, and it is evident in their interactions with each other, with their clients, and with the community. With Live Aloha Realty, you can buy or sell your home and at the same time, do something wonderful for the Big Island community. Contact us today to see how our 'ohana can help you make that dream a reality!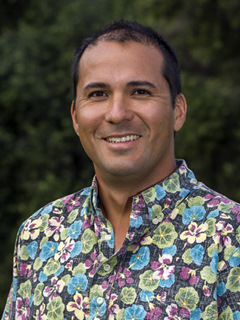 Kai Ohuchi – Principal Broker, R(B), Lic. #22081
Kai was born in Tokyo, Japan, and spent the first 18 years of his life going back and forth between Hawaii and Japan, eventually ending up attending the University of Hawaii at Manoa on a tennis scholarship. After college, he moved back to Japan, where he taught high school English for two years before getting an opportunity to play professional tennis on the Pro Circuit, which he did for three years. He eventually met a local girl from Oahu, who he married in 2007. After two years living in Tokyo and working in the corporate environment, they moved to Hawaii Island to settle and raise their family. He has managed luxury vacation rentals since 2009, and has a passion for business and entrepreneurship which is eclipsed only by his love for his family. His world revolves around his wife Coralie, daughter Kalina, and son Keisen, who are his true joys in life. He also enjoys playing tennis, golf, ocean sports, and traveling. His idea for creating a brokerage where a portion of commissions are systematically donated to Big Island charities came from reading a book written by the founder of Toms Shoes, whose mission is to donate a pair of new shoes to those in need around the world, for every pair of shoes sold. One for One. This model has since been replicated in numerous successful businesses globally, ranging from glasses to socks and hats. Kai hopes to utilize real estate as a tool to create meaningful change for the people of Hawaii Island, where poverty levels are among the highest in the State.
Call Kai directly at (808) 366-1979; or email Kai@LiveAlohaHawaii.com.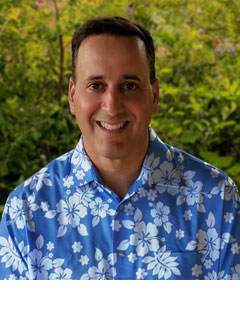 Eli Carmona – Sales Agent, R(S), Lic. #79587
Eli moved to the Big Island from Orange County, California. For the past thirteen years, he has visited the Big Island at least twice a year. He is grateful he had the opportunity to move to Hawaii and join Live Aloha Realty. He lives in Kamuela with his wonderful wife and two amazing daughters. He has a successful business background in construction as well as retail. After earning his contractor's license in 2005, he opened his own construction company which has a stellar reputation in quality and customer service. He worked with real estate companies by remodeling homes to help people successfully sell their properties. He's happy to be part of Live Aloha Realty and to bring his expertise and passion to the team. In his free time he enjoys spending time with his family, off-roading, camping, hiking, and cooking.
Call Eli directly at (808) 765-5505; or email Eli@LiveAlohaHawaii.com.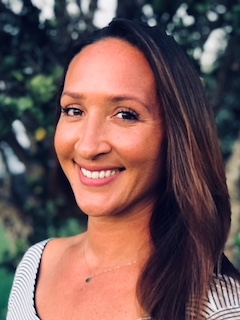 Noelani Spencer – Sales Agent, R(S), Lic. #80257
Born and raised in beautiful Waimea, Noelani grew up the daughter of a master carpenter in a family that designed and built specialty homes throughout Waimea. From a young age she developed a passion for the art of home building, which has blossomed into a career in the Real Estate industry.
Noelani began her career in the mortgage industry after she met her mentor in 2001. Working side by side with the president of a mid-size mortgage company, she learned the entire mortgage business as a Loan Officer/ Loan Closer. In late 2009 she began her career in the vacation rental business, starting a cleaning company which in turn taught her what it takes to be a great Property Manager.
She obtained her Real Estate license in 2017 and has since been managing homes as well as running her cleaning business. Noelani looks forward to incorporating her knowledge of the mortgage process, and the vacation rental business, with her passion for Hawaii and helping people. Noelani is also a very dedicated mother. She has two amazing teenagers that she is so proud of. If she's not cheering one of them on in their current sport, she enjoys outrigger canoe paddling, hunting, fishing and really anything outdoors. 
Call Noelani directly at (808) 990-4994; or email Noe@LiveAlohaHawaii.com.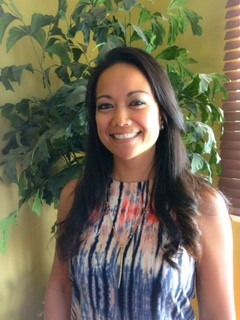 Anela Vares – Office Manager
Born and raised on the island of Hawaii, Anela knows the true meaning of Aloha: showing compassion and honesty to everyone she encounters, treating them as family and friends; and always willing to help those in need. Anela enjoys spending time with her wonderful husband and two beautiful children; going to the beach, riding bikes, and traveling. Anela brings 15 years of clerical experience to our team, formerly holding a supervisory role in the Department of Land and Natural Resources, where she started her career as a student hire while attending Hawaii Community College. She gradually worked her way up to a level III government employee position, and brings her organizational knowledge and expertise to our growing company.
Call Anela directly at (808) 931-0006; or email Anela@LiveAlohaHawaii.com.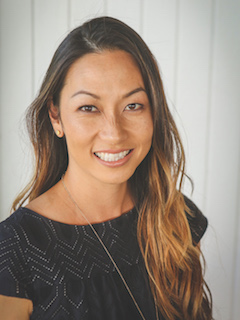 Coralie Todo Ohuchi – Business Operations Manager
Born and raised on the island of Oahu, Coralie is literally married to this business as the wife of Principal Broker Kai Ohuchi. An MBA and Hawaii CPA not in public practice, Coralie previously practiced in the Tokyo offices of Ernst and Young's Financial Services Group and Deutsche Securities, Inc. She treasures the opportunity to work so closely with Kai and the rest of the Live Aloha Realty team, and is excited about the prospect of using real estate to make a difference to this island that has embraced her young family and which she is so grateful to call home.
Call Coralie directly at (808) 266-0220; or email Coralie@LiveAlohaHawaii.com.